Training Program Updates
The Beyond the EDGE Training team is working hard to deliver fresh and exciting content each and every day.  Follow this feed to see what is new and exciting in the Beyond the EDGE Training world!
Want to learn more or have some ideas to make our application and training programs even better?  Just let us know.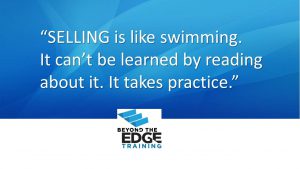 Practice isn't the thing you do once you are good. It is the thing you do that makes you good.
There is always room for improvement, so be dedicated and committed to getting better every single day.
Don't practice until you get it right. Practice until you can't get it wrong.
Beyond the EDGE Training the quickest, most effective and affordable way to learn how to sell.
If you would like to learn more about how Beyond the EDGE can help you transform your skills and achieve your full potential, please contact us.  Beyond the EDGE offers you a unique approach combining educational content with effective tools that ultimately provide a personalized training solution that will help you achieve your goals.