Beyond the EDGE Training Online
At the core of each Beyond the EDGE Training program is proven and highly effective training content derived from the personal experience of our advisors. 
Our online training materials are presented in ways that help users learn and more importantly retain the incremental skills, knowledge and tools achieved in their training.
The Training Content and materials in each Beyond the EDGE Training module is presented in multiple formats, starting with an enhanced video training session and supplemented by detailed infographic applications, examples, technical challenges, reminder tips and on-demand video tutorials.
Whatever your learning style is, Beyond the EDGE Training has content that will work for you.  
Beyond the EDGE – Online Training Videos
Each Beyond the EDGE Training video is focused on a single concept and explores it in detail utilizing engaging graphics supported by clear and simple to understand audio and printed text.  
Training Videos are packed with content so Users can pause the EDGE Based Training (EBT) videos at any time, enabling training sessions to start and stop as required.  EBT videos are compatible with browsers for all types of computers and are also viewable on tablets and smart phones for reference anytime and anywhere.   Users can also play each EBT video an unlimited number of times to ensure they fully understand and can remember the techniques and tools they are learning.
An extract of a real Beyond The Edge Sales Training video is shown in the following video clip:
Beyond the EDGE – 'Eddies'
To supplement and reinforce the techniques and processes demonstrated in each Training Video every module also includes an Educational Infographic, affectionately known as an 'Eddie'.  Simple and highly effective, Eddies help users compound their knowledge during their training sessions by applying the technique being learnt to real world situations.   Eddies can also be downloaded and saved for on-the-go references or for when you need a quick refresher.
Each Eddie applies the learning concepts to a series of situations to help the user better understand the concepts through visualizing them in practical and real business situations
Below you will find an extract of the Eddie that accompanies the same Sales Training module shown in the above EBT video clip: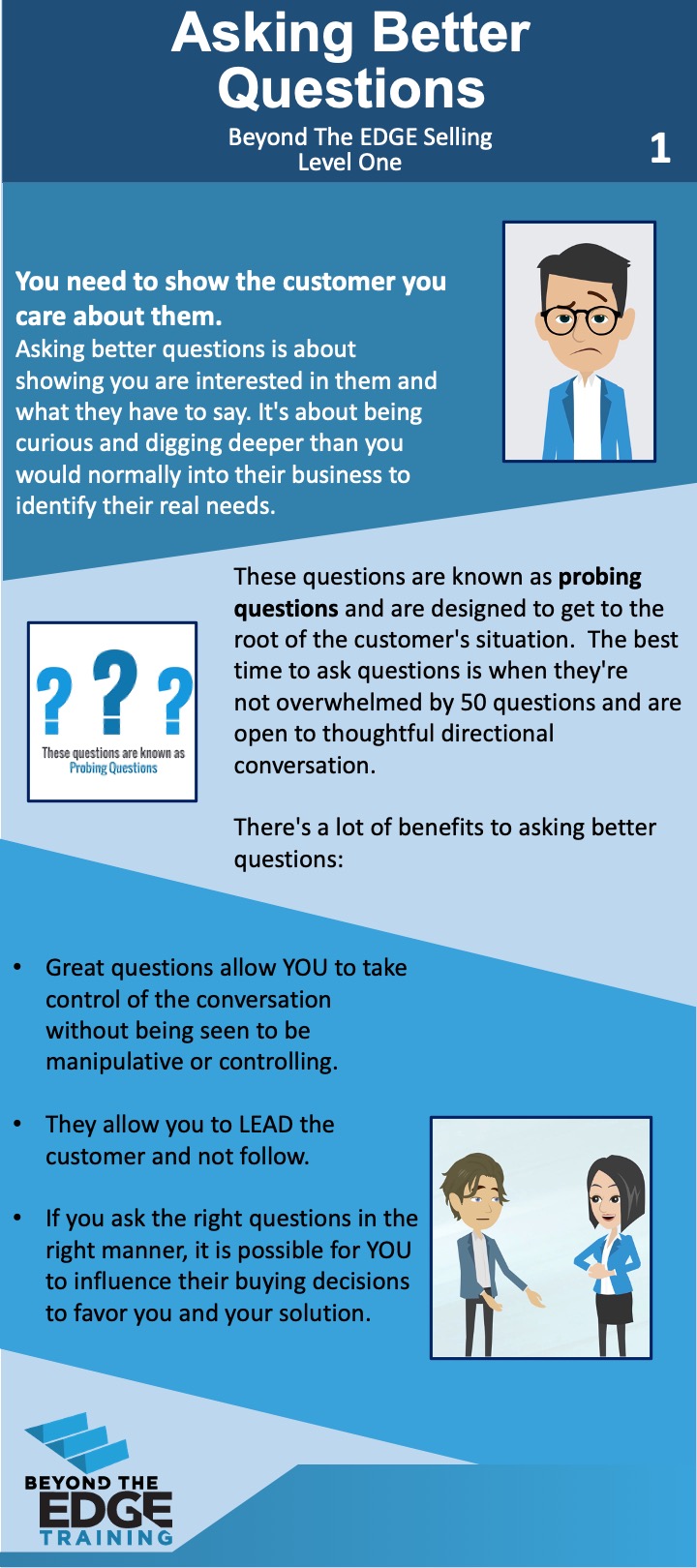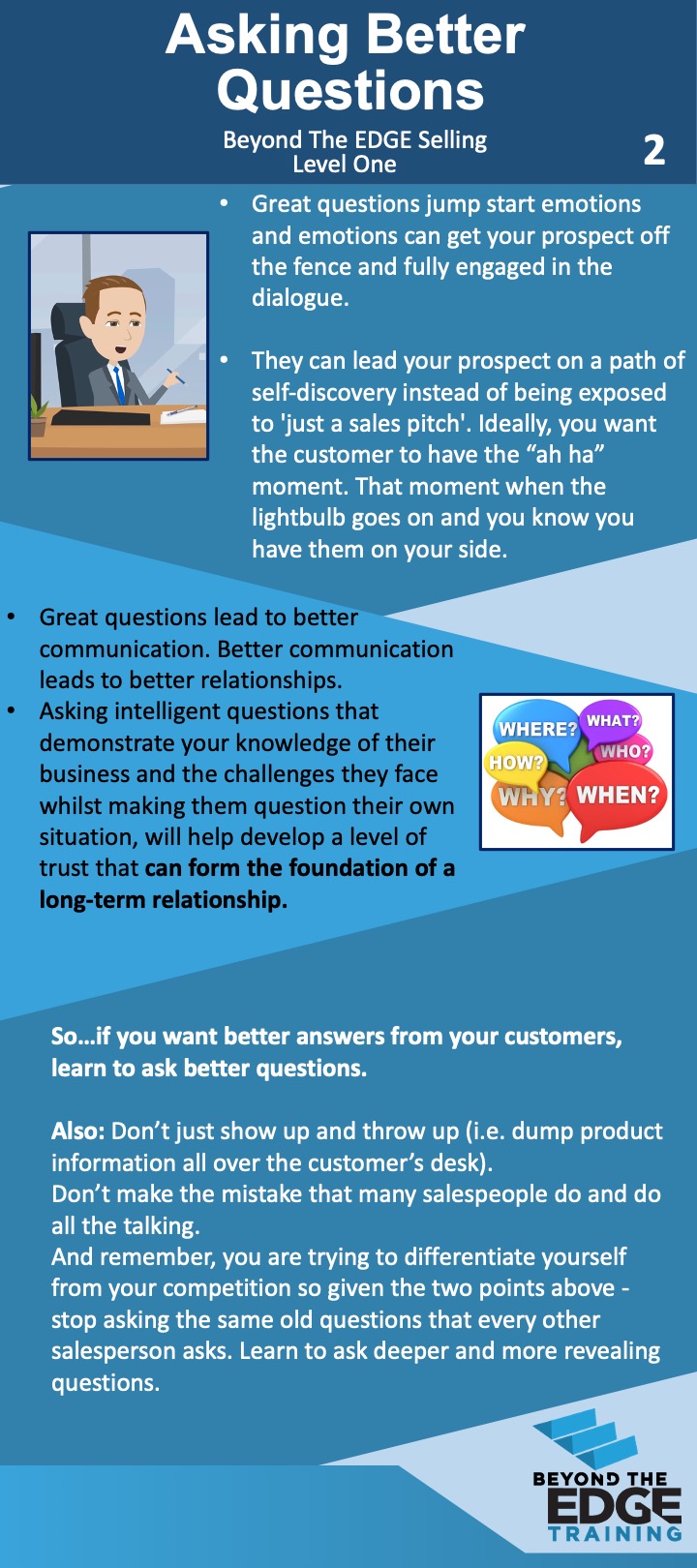 Beyond the EDGE – Self Challenges
The retention of new ideas and tools is a critical part of the learning experience.  What is the point of learning something if the knowledge evaporates shortly after you have completed the training?
After learning concepts and principles in each Beyond the EDGE training module you will have the opportunity to apply your skills to a common business situation to test your skills and further embed this knowledge in your memory.  There is nothing like seeing yourself on video to get a clear picture of whether you know your stuff or not.   Practice does make perfect and repeating the self challenge until you have the materials mastered is a great way to become great at the techniques you are learning.
Each Self Challenge utilizes a unique situation to keep you sharp and focused and to provide you with a wide range of potential application experiences.
The Self Challenge associated with the same Beyond the EDGE Sales Training module as the previous EBT video and Eddie extracts is shown below.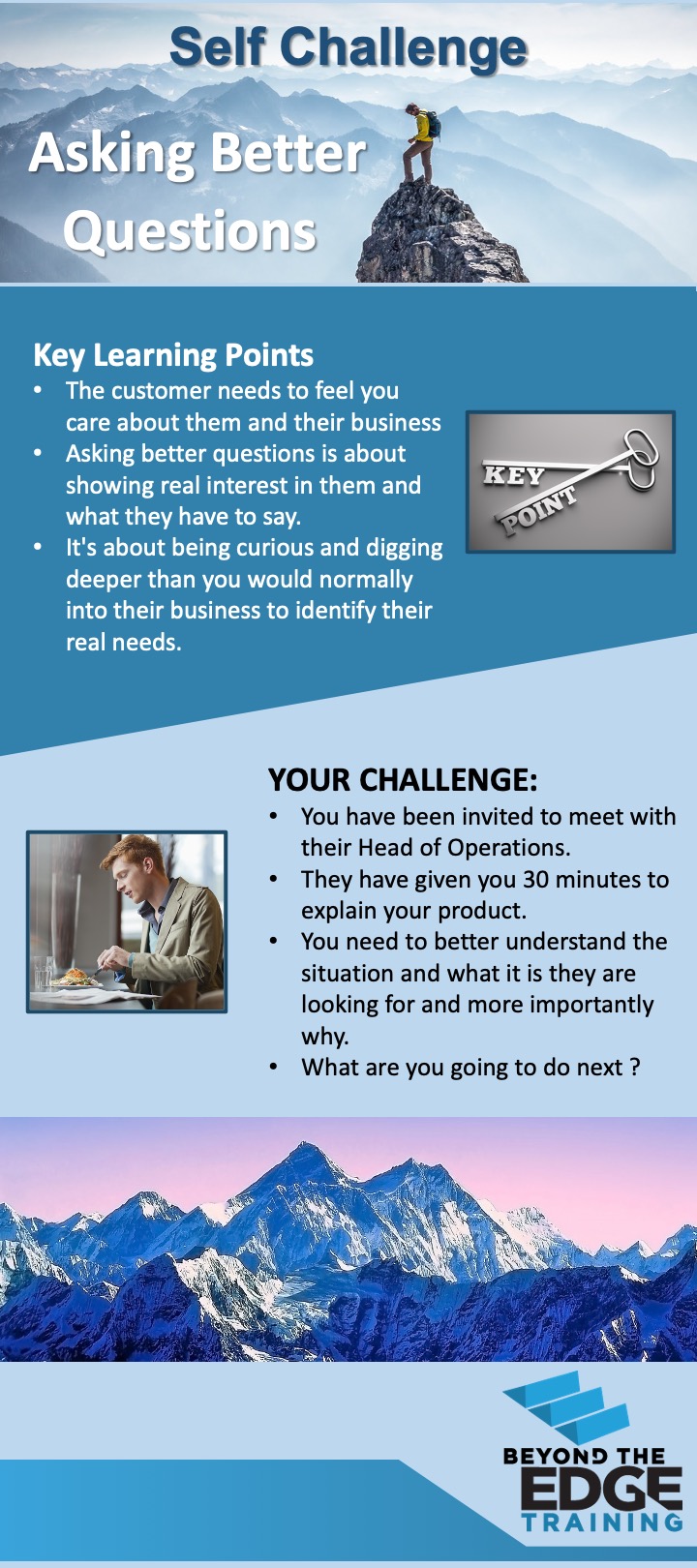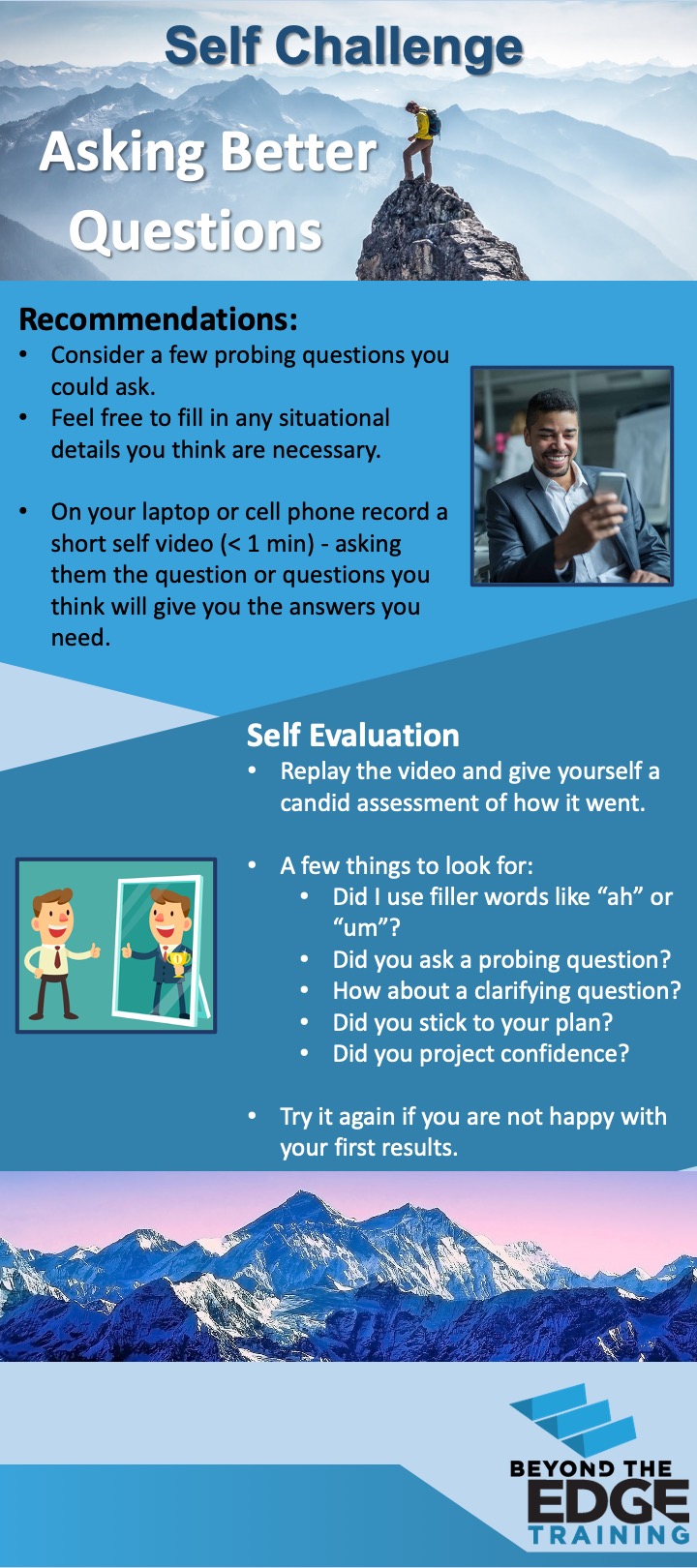 If you would like to experience Beyond the EDGE's content first-hand please head to our login page to access the entire first module of Beyond the EDGE's Sales Training program.   If you would like to reach us with comments or questions please use the form below.