Online Sales Training is at your fingertips.
Experience a Free Trial of Beyond the EDGE's Sales Training Program just click here:
Getting Started is Really as Simple as
1-2-3
You can experience the power and effectiveness of Beyond the EDGE's Online Sales Training Program by following these simple steps.  
Your Free Online Sales Training Module is only a click away!
1. Click the Get Started Button
Clicking will take you directly to the Beyond the EDGE Training App where you can create your user name and password.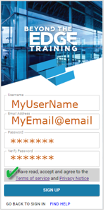 2. Take a One Minute App Tour
This quick tour will run you through the home page tiles and show you how the site is set up.

3. Enjoy Your First Training Module!
The first EDGE Based Training Video in our Sales Training Program is called Stop Selling and it is 100% free.  After watching this training video you will also have free access to all the additional Module One training materials including the Eddie application Infographic and your first Self Challenge.  Enjoy your Free Online Sales Training Module!

How Does Beyond the EDGE Sales Training Work?
Beyond the EDGE's training content is accessible through our app on a phone or on any electronic device.   Our years of training experience offers you the latest in sales methodologies to ensure that your sales people stay at the top of your game.
 You'll find our content easy to access, easy to digest, and easy to use.  
The full sales training program includes 3 levels of content with 10 training themes covering 46 training modules.   After registering online and experiencing the first complimentary theme you can choose to purchases individual themes as you go or save money by purchasing complete training levels when you are ready to move on .   
Beyond the EDGE is great value for your money and completing the sales fundamentals training, which includes all 28 modules of Level 1 and 2 training, will cost you less than $75.  Completing the entire Beyond the EDGE sales training program, with all 46 modules across all three levels and obtaining your professional sales certification will cost you less than $200.
What makes our learning platform truly special is where it takes you and what it can help you learn and achieve. Beyond the EDGE grows with you as your knowledge increases.  
Content Demo
Sales Training Program
Start your Online Sales Training Today
The first module of our Online Sales Training Program is Free!
If you would like to learn more about how Beyond the EDGE can help you transform your sales skills and achieve your full potential, please contact us.  Beyond the EDGE offers you a unique approach combining educational content with effective tools that ultimately provide a personalized sales training solution that will help you achieve your goals.